Domain Name Arbitration (DNA), by Gerald M. Levine with a Foreword by The Hon Neil A. Brown QC. (2015). A Supplement and Update (2016) to the treatise is available in e-book format from Amazon. A print version will be available on November 15, 2016. To obtain a fee copy in pdf format please to http://www.legalcornerpress.com/dna-supplement.   Further information at Legal Corner Press.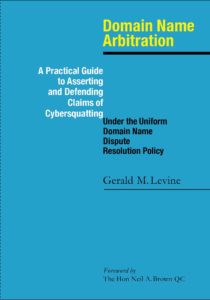 DOMAIN NAME ARBITRATION is a hands-on guide for trademark owners and domain name holders to the arbitration process in adjudicating claims and defenses to cybersquatting.  DNA is a systematic examination of the jurisprudence of domain names as developed in cases adjudicated under the Uniform Domain Name Dispute Resolution Policy (UDRP). It also looks at the corresponding statutory scheme in the United States, the Anticybersquatting Consumer Protection Act (ACPA).  The UDRP was implemented by the Internet Corporation for Assigned Names and Numbers in 1999; the U.S. Congress enacted the ACPA in the same year. The UDRP has since become  the regime of choice for adjudicating cybersquatting disputes.
From Mr. Levine's Preface: "However important [the immediate similarities and differences are between the UDRP and the ACPA] there is one further difference that is likely to be overlooked by general practitioners and uninitiated parties, which is that the regimes are constructed on different liability models: the UDRP is a conjunctive "and" model; the ACPA is  disjunctive "either/or" model. "Intent" is the key element in both, but under the UDRP a trademark owner cannot succeed on its complaint unless it proves the domain name holder both registered the domain name in bad faith and is using it in bad faith"
From Mr. Brown's Foreword: "Domain Name Arbitration puts flesh on the bones by illustrating how the jurisprudence crafted by panellists makes the UDRP a living and working dispute resolution regime. It should certainly be on the desk, or on the computer, of every activist in the domain name world, every practitioner and everyone else that works in the field."
Selected below is the front matter of the book from the electronic galley. Other selections can be previewed on Amazon or Barnes & Noble. Direct any questions and comments to inquiries@legalcornerpress.com.
LEGAL CORNER PRESS, INC. now has its own website <legalcornerpress.com>. A Supplement to DOMAIN NAME ARBITRATION is accessible at www.legalcornerpress.com/dna-supplement.
Selections:
Front matter: Front Matter